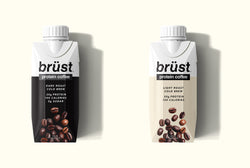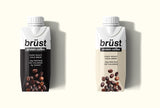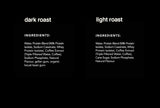 brüst trial pack - out of stock
Want to give brüst a shot for free? You cover shipping and we'll send you 4 bottles to try.
3 weeks after your Sample Pack delivers, we'll send you an email about your first restock: a 12-pack of 6-light roast and 6-dark roast for $41.79 and free shipping. Reply to change flavors, skip, or cancel. It's that easy.
No catch, no strings attached. If you don't like brüst, just send us an email and we'll end your membership. Simple as that.
Limit one 4-pack per customer
Our coffee is exceptionally smooth and never acidic or bitter. That's because we steep our hand-picked, artisanal roasted, Colombian and Brazilian Arabica coffee beans in cold water to produce the best flavour.
Our premium protein comes from grass-fed New Zealand dairy cows who are kept out of cages. Our farming partners practice the highest standards of animal welfare, so you can be confident that you're not consuming traces of hormones or antibiotics.
Great but pricy
We got an 18 pack for 39.99from costco. Wish we could get the same on line. Its alot more expensive for 12 pack. Thanks
Tastes great
Really great product tastes so nice. Doesn't leave a weird aftertaste. Never seen to find it I. Stock in Costco will order from website.
Amazing!
Love them so much, I really like how it's not overly sweet. The light roast is my favourite. The taste is perfect just like a normal iced coffee flavour.
Protein coffee
This is the perfect morning coffee in both a medium and dark roast. Plus it is packed with a protein punch.
Delivery was quick and it was well packaged.
Love it! 💯
Love it!
I love the dark roast as I never put sugar in anything.. however, even the light roast was fantastic. 100% recommend. Easy way to get in protein and a little energy boost.