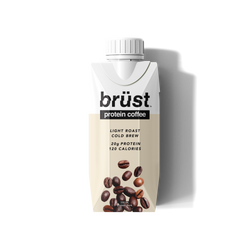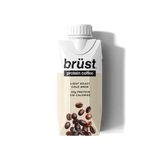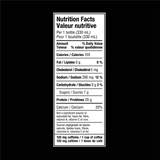 Original Light Roast
brüst original light roast protein coffee is a light bodied, slightly sweetened cold brew coffee. 
Stay fueled on the go with cold brew coffee + 20g of New Zealand grass-fed protein.
12-Pack for $3.66 per bottle or subscribe to save 5%
Our coffee is exceptionally smooth and never acidic or bitter. That's because we steep our hand-picked, artisanal roasted, Colombian and Brazilian Arabica coffee beans in cold water to produce the best flavour.
Our premium protein comes from grass-fed New Zealand dairy cows who are kept out of cages. Our farming partners practice the highest standards of animal welfare, so you can be confident that you're not consuming traces of hormones or antibiotics.
Great...
Your product is great but you need to offer the same special as costco 40$ for 18 bottles now that's a deal!!
Original Light Roast - out of stock
Amazing product
For someone who is not usually a coffee drinker I now drink one of these 3-4 mornings a week. It is the perfect size, flavour is just ever so slightly sweet. I sad to find it already sold out in the Orillia Costco.
Best out there
Amazing, terrific and an explosion of flavour in each gulp! Gotta have it on ice. Great product, can't wait for more.
Best protein coffee in the market!
I am an active young professional who needs my daily fix of caffeine and protein to get me through the day. Brüst provides just what I need to stay focused and feel good about what I'm putting into my body. I used to drink an unhealthy amount of coffee (~3-4 cups a day), which ultimately ended up making me anxious and negatively affected my sleep schedule. Drinking 1-2 bottles of the Original Light Roast drink a day has helped me reduce my overall caffeine consumption, while simultaneously helping me stay focused and improve my restfulness. Highly recommend this drink to anyone looking to get their daily macros while simultaneously getting a light caffeine boost!