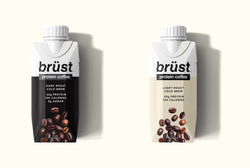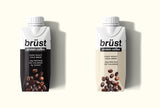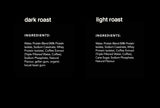 brüst sample pack (light roast & dark roast)
Try our new brüst dark roast protein coffee, a full bodied, rich black cold brew coffee, and our original light roast protein coffee, a light bodied, slightly sweetened cold brew coffee. 
Stay fueled on the go with cold brew coffee + 20g of New Zealand grass-fed protein.
Choose a 12-Pack for $3.66 per bottle
Our coffee is exceptionally smooth and never acidic or bitter. That's because we steep our hand-picked, artisanal roasted, Colombian and Brazilian Arabica coffee beans in cold water to produce the best flavour.
Our premium protein comes from grass-fed New Zealand dairy cows who are kept out of cages. Our farming partners practice the highest standards of animal welfare, so you can be confident that you're not consuming traces of hormones or antibiotics.
Délicieux
Leger et tres bon au gout
Ravie!!
Refreshing, Invigorating and healthy cold brew coffee
Great product that will get your day started right. Long lasting energy that tastes goood. I highly recommend this to all my friends and family.
Love it
The best coffee protein company around.
The best post workout drink
I was looking for something cold to drink after my morning workouts! Something that could place my coffee & Brust has been the best purchase made!
Tastes good!
I love the taste of coffee but hate the taste of protein and this is delicious!