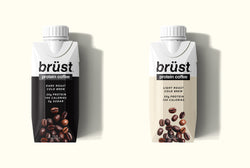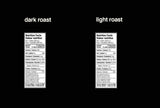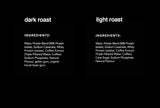 brüst sample pack (light roast & dark roast)
Try our new brüst dark roast protein coffee, a full bodied, rich black cold brew coffee, and our original light roast protein coffee, a light bodied, slightly sweetened cold brew coffee. 
Stay fueled on the go with cold brew coffee + 20g of New Zealand grass-fed protein.
Choose a 4-Pack for $3.99 per bottle or subscribe to save 5%
Choose a 12-Pack for $3.66 per bottle or subscribe to save 5%
Our coffee is exceptionally smooth and never acidic or bitter. That's because we steep our hand-picked, artisanal roasted, Colombian and Brazilian Arabica coffee beans in cold water to produce the best flavour.
Our premium protein comes from grass-fed New Zealand dairy cows who are kept out of cages. Our farming partners practice the highest standards of animal welfare, so you can be confident that you're not consuming traces of hormones or antibiotics.
Gets my day going
Would recommend Brüst to just about anyone, perfect start to my day. Have sent to all my coworkers and they've loved it as well
Coffee delight
Love the product. Love the added protein that I need and will be ordering more.
Great! Love the flavour of the light roast and the caffeine content in both is solid
brüst sample pack (light roast & dark roast)
Great Product & Customer Service
You couldn't ask for more in a product like this. Tastes great, gives you your protein and caffeine fix. All at a fairly reasonable price. Their customer service is excellent as well. They had run out of the one product, contacted me immediately and offered me the other product in stock at a discount instead.