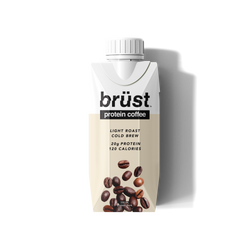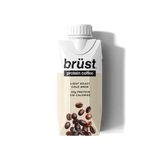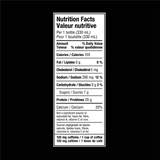 Original Light Roast
brüst original light roast protein coffee is a light bodied, slightly sweetened cold brew coffee. 
Stay fueled on the go with cold brew coffee + 20g of New Zealand grass-fed protein.
12-Pack for $3.66 per bottle or subscribe to save 5%
Our coffee is exceptionally smooth and never acidic or bitter. That's because we steep our hand-picked, artisanal roasted, Colombian and Brazilian Arabica coffee beans in cold water to produce the best flavour.
Our premium protein comes from grass-fed New Zealand dairy cows who are kept out of cages. Our farming partners practice the highest standards of animal welfare, so you can be confident that you're not consuming traces of hormones or antibiotics.
A Starbucks Drink for Gymrats (that you wont have to pay $$$ for)
Since buying it, I have converted my whole family to brüst. When I first tried it, it reminded me of an iced coffee from Starbucks (but obviously wayyy cheaper and worth the money since it has protein in it). It has mild sweetness and does not leave a bitter aftertaste, which is a major + especially for people who aren't regular coffee drinkers like myself. This works as SUCH a good pre-workout and if it was possible, I would convince gyms to have this in their vending machines lol. This isn't sponsored nor affiliated in any way; I just really like their products and am sad to know that only a small amount of people know about this amazing drink (so yes, I talk about how amazing this drink is to a lot of ppl lol)!
Love it with the touch of sweetness !
So smooth! Would recommend over dark roast
Brust Original Light Roast
I've been drinking Brust for awhile now. It's especially good after my afternoon workout. I get a boost from the coffee and 20 grams of protein as well. And it tastes great as well!
Best product ever
Brust is delicious and gives me the protein I need and the caffeine I love! Delivery is always on time.