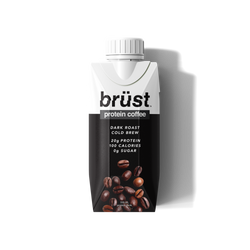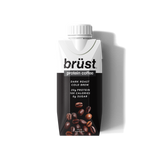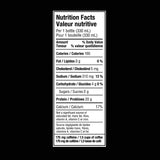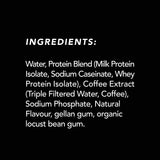 New Dark Roast
New brüst dark roast protein coffee is a full bodied, rich black cold brew coffee. 
Stay fueled on the go with cold brew coffee + 20g of New Zealand grass-fed protein.
12-Pack for $3.66 per bottle or subscribe to save 5%
Our coffee is exceptionally smooth and never acidic or bitter. That's because we steep our hand-picked, artisanal roasted, Colombian and Brazilian Arabica coffee beans in cold water to produce the best flavour.
Our premium protein comes from grass-fed New Zealand dairy cows who are kept out of cages. Our farming partners practice the highest standards of animal welfare, so you can be confident that you're not consuming traces of hormones or antibiotics.
Great Anytime
I enjoy a cold brew coffee out on the trail in the afternoon, both summer and winter. Found this to be great as it gives me sustained energy to get to the end.Taste good and doesn't need any sweetener, like cold brew should.
The best
Love this stuff. When you're someone always on the go and wanting to get your coffee and protein in. Game changer!
Fantastic way to start your day
Awesome taste with no chalky mouthfeel which was a great surprise for a protein coffee. I have it after every workout!
Riots review
Protein and great tasting full bodied flavourful coffee. An athlete/coffee lovers dream. Now I gotta order more.
You're doing coffee wrong if you're not drinking this